The purpose of this blog is not intended to be political, but sometimes when speaking about heroic Americans, one brushes up against politics of the iniquitous kind. This is one of those times…actually this post talks about two of those times, one current and one from our history.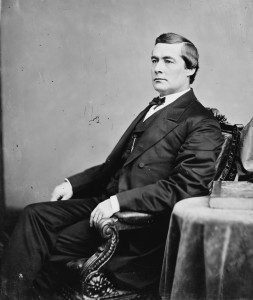 In our current environment of congressional and national turmoil, when, at the time of this writing, the U.S. Congress can't seem to agree on anything, the U.S. economy is in the tank, primarily due to government mismanagement, and the American people no longer seem to have a positive outlook about their futures, we are all in dire need of a hero figure. Recently, one such figure briefly emerged above the fray. Whether you are in agreement with or despise his political beliefs, you must admit that Senator Ted Cruz of Texas took a decidedly heroic stance when, beginning September 24, 2013, the senator took the floor and filibustered (although it was not called that) against government controlled health care and the unconstitutional individual mandate for over 21 hours. Many disagreed with him; many said it was a scheme designed only to put his name before the public as a possible presidential candidate in 2016; many said it was a pointless exercise. None of that really matters in the 'heroic' sense. What matters is that the Texas senator took the floor knowing that everyone in the opposing party was going to blast him in the press, but also knowing that many…possibly more that half…of the legislators from his own party would denigrate him just as vehemently! You have to admit, regardless of your personal political beliefs, the senator put himself in a very precarious position where he could lose a great deal of his personal and political prestige by taking such an unpopular stance. He put his neck on the chopping block and was willing to accept the consequences of his actions, good or bad. That's pretty heroic in my book.
But this particular post is not even about Senator Ted Cruz. The photo at the top of the page is of Senator Edmund Ross of Kansas, who served immediately after the Civil War and became famous (or infamous, depending on your point of view) during the impeachment hearings to remove President Andrew Johnson from office. Ross' story is an interesting one, but requires a little telling.
President Abraham Lincoln favored a very conciliatory tone when deciding on measures to bring the southern states back into the Union at the end of the Civil War. Radical Republicans who controlled the Congress took the opposite view, wanting to punish the South as much as possible for all the pain secession and the war had inflicted on the nation. When Andrew Johnson ascended to the presidency after Lincoln's assassination, he decided to continue Lincoln's conciliatory goals and bring the southerners back into the foal in as humane a way as possible. His stance angered Republicans, who began to take measures to usurp much of the power of the presidency.
Republicans passed two unconstitutional laws designed to give them much power over the president and to force Johnson's hand into capitulating to the harsh Reconstruction plans of the Congress. President Johnson chose to defend the Constitution of the United States and his personal stance on Reconstruction by blatantly breaking the unconstitutional laws represented by the recent legislation. Since the laws were not constitutional, he reasoned, it was his responsibility as president to force the issue until they were declared so.
Republicans responded by opening impeachment hearings in the House of Representatives, and were able to impeach the president in short order. The case then was referred to the U.S. Senate to vote whether or not President Johnson should be removed from office. (One could make a strong case, at this point, that President Andrew Johnson should be the 'hero' of this post for taking a stand to defend the Constitution and putting his presidency in danger to do so.)
Enter Senator Edmund Ross of Kansas. Ross was a Republican who had been appointed by the governor of Kansas to fill a vacant Senate seat only two years before. The fledgling Senator, a man with no former political experience, was still finding his way through the dangerous and confusing maze of Washington politics. Republicans were certain they had enough votes to remove President Johnson from office, leaving them free to pursue their Reconstruction agenda of harsh treatment for the South. A 2/3 majority in the Senate vote is required to remove the president from office. Party leaders were convinced they had the exact number of votes necessary. Those leaders, however, failed to consider the conscience of Senator Edmund Ross.
After considering the situation from all possible angles, the freshman senator decided President Johnson was correct in his actions and did not deserve to be removed from office. In discussing his position with fellow Republicans, all of whom were adamant that the president be removed, Ross was berated and threatened both personally and politically by his fellow senators. He was assured that if he voted against Johnson's removal from office, his political career would be over and he would be destroyed from every personal and financial venue.
Just before he arose on the Senate floor to cast his vote, Ross was quoted as saying, "I almost literally looked down into my open grave. Friendships, position, fortune, everything that makes life desirable to an ambitious man were about to be swept away by the breath of my mouth, perhaps forever." He voted not guilty, and the Republicans fell one vote short of removing the president from office.
Ross' fellow senators made good on their promise to destroy him. He was never elected to office again, and found himself reviled and financially ruined when he returned home to Kansas. Senator Edmund Ross voted his conscience in the face of extreme adversity, and it cost him everything. Almost 100 years later in his Pulitzer Prize winning book Profiles in Courage, John F. Kennedy wrote of Senator Edmund Ross "…his vote may well have preserved for ourselves and posterity constitutional government in the United States."
I mentioned our current political climate at the beginning of this post because it occurs to me we are living through a very similar, although in many ways exactly opposite, situation.  Congress is arguing the merits of an unconstitutional law they passed without taking the time to read the bill. Even though the law is unpopular, all Democrats and many Republicans seem to be in favor of allowing it to stand. Senator Cruz and a few other Republicans have taken what seems to be a very unpopular stance even within their own party, and are enduring the vitriol of many of their fellow legislators because of it. Will they be American heroes once all the dust settles? Will someone else step up and risk everything to vote his or her conscience for the good of the nation? Only time will tell, but I am leaving room for the story, just in case.