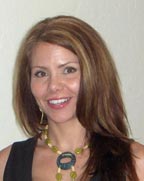 So far all of my 'hero' stories have been about men from WWII or centuries before. This story will break that mold as I describe to you a young, modern woman whose deeds are as selfless and heroic as any I have heard. Fern Holland was a young attorney from Tulsa, Oklahoma who gave up a lucrative law practice in order to go to Africa and establish free legal clinics for abused women. These clinics provided aid to women who otherwise would have had no recourse from their sad situations.
After serving in Africa, Ms. Holland returned to the United States and was offered a very high paying position with a Washington, D.C. legal firm. At about the same time she became aware of the plight of women in Iraq, and decided to go there on a similar mission as she had done in Africa. She was soon offered a position with the Coalition Provisional Authority (CPA) and began offering legal aid in all forms to Iraqi women. Among her many achievements, she was instrumental in writing into the new Iraq Constitution the portion that requires the parliament to be composed of at least 25% women. She also aided in individual cases of abuse, cases of property disputes in which women previously had no legal clout, and many other areas which were often areas in which Iraqi women were the subjects of discrimination.
A story first reported by Elizabeth Rubin in the New York Times Magazine  in September, 2004 describes with great aplomb the character of this great American heroin. The story is about two Iraqi women from a small farming community who came to Ms. Holland seeking her aid in a legal dispute. Ms. Rubin reports of a letter written by Fern Holland to a friend in Tulsa:
"They are widows. They wear all black, all you can see is their faces — no hair or neck. They don't wear gloves though and you can see their hands — very rough hands, dry and cracked and evidence of broken fingers from years ago, and huge knuckles from years of manual labor. Their faces wrinkled and dark, no makeup, but 2 small faded blue circles on their chins — tattoos. One of Saddam [Hussein]'s thugs grew crops on their land and they thought they could remove him upon liberation. No such luck. He built a house on their land and refused to leave. They have court orders and everything and nobody will move the guy. Everyone's afraid of him. So much for the rule of law. I'm going to see him Saturday morning, along with the little ladies, the manager of the new women's center, the judge, and a couple Iraqi policemen. These little ladies reminded me of my mother. Salt of the Earth."
Two days later, Fern showed up at the judge's courthouse in Kifl, a farming village about 12 miles from Hilla. The judge was impressed by her knowledge of Iraqi law. Holland promised, in her slight Oklahoma lilt, that she would bring an Internet cafe to his rice-farming village, which boasts the tomb of the prophet Ezekiel. He agreed with her when she said, "No one should jump over a woman's rights," but with all the suffering people in Iraq, he was a little puzzled why this slight, 5-foot-2, fiery American, with golden hair and sky blue eyes, was putting so much energy into this particular case. The judge pointed out how shameful it is to destroy somebody's house — so much so that no local would dare to carry out his order to do so. Tribal or religious leaders usually mediate such quarrels. Still, he gave his word to implement the ruling that he had himself issued, but on one condition: Holland had to bring the bulldozer.
"A bulldozer?" cried Adly Hassanein back at the Babylon Hotel. An elegant Egyptian-American human rights adviser with the C.P.A., Hassanein worked closely with Holland and shared her commitment. "Fern," he said, "that is an Israeli act." He begged her to let it go: it's family business; it's local culture. She smiled at him. She knew Hassanein's paternal routine. "They can't just harass women this way, Dr. Adly," she said.
Three days later, on a warm spring Tuesday, Holland collected some petty cash, found a bulldozer and a driver and returned to Kifl. The judge set off with 30 policemen following the bulldozer. The man's house was demolished. The "salt of the earth" got back their property. And in Holland's mind another step had been taken toward getting Iraqis to trust in the rule of law.
Holland, American press officer Robert J. Zangas, and their Iraqi translator Salwa Ourmashi were shot in their car on a road near Karbala on March 9, 2004. Their killers wore Iraqi police uniforms.[3] According to reports, she and Zangas were the first American civilians working for the CPA to be killed in Iraq, [4] The New York Times Magazine reports interviews indicate she was intentionally targeted for murder by those threatened by her empowerment of women; these interviews also reflect that for many CPA staff this was a turning point in the war when Western civilians could no longer travel without guns.
—–
Fern Holland was 33 years old when she was killed. The selfless and apparently fearless young lady gave up a financially lucrative law career, a life of comfort with friends and family nearby, and the freedoms provided by a nation with a Bill of Rights, to go into places where neither she nor her mission were welcome and her life was constantly at risk. She went, not for glory or for fame, but because it was the right thing to do. She was a true American hero.
Martin Luther King once said, "If a man is not willing to die for something, he doesn't deserve to live." I don't know if Fern Holland ever read that quotation, but I have no doubt she would have agreed with the sentiment.
For a much more comprehensive look at the heroic life and sacrifice of Fern Holland go to http://www.nytimes.com/2004/09/19/magazine/19WOMENL.html?_r=0. This New York Times Magazine article by Elizabeth Rubin presents a far more comprehensive look at the life and selfless achievement of this great American hero.
"If I die, know that I'm doing precisely what I want to be doing."   Fern Holland