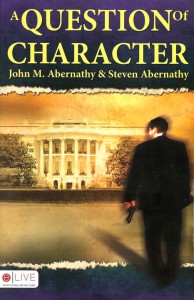 A playboy president, a power hungry first lady, and murder at the highest level of government!
A Question of Character, co-authored by the father-son team of John and Steven Abernathy, asks the troubling question, "What if the President of the United States was a murderer?"  D.C. Metro Police  detective Colin Franks finds he must answer that question as his investigation into a body found in a D.C. park leads him toward the nation's highest office. Federal investigators insist the death is a suicide, but Franks thinks otherwise. With the assistance of a conspiracy theorist and a Secret Service agent with a nagging conscience, the detective violates department orders and follows the trail of political intrigue and murder all the way to the White House. Along the way, he discovers corruption, dissension, an assassination plot, and a treasure trove of historic artifacts hidden since the Civil War. This fast paced and thrilling novel shows us that in the world of politics, it all comes down to  A Question of Character.
Read Chapter 1 on the A Question of Character page of this website.
Click here to download A Question of Character.
The sequel to A Question of Character asks the question: What if the President of the United States was a Communist?
In the 1950s, a very real Cold War era plot, created by entities within the Soviet Union to convert the United States to socialism, went virtually unnoticed by the American press. Nikita's War presents a five decades belated version of that previously unreported story. Kurt Leichtman, a brilliant young associate of Premier Nikita Khrushchev, develops the plan and moves to the United States to oversee its implementation. He procures a teaching position at a major university and begins to cultivate a friendship with a young, female student who will eventually become President of the United States. Along with their infiltration of America's schools and businesses, the Soviets choose one hundred children and young adults to groom for possible future election to political offices. Leichtman becomes adviser to the first female American President, but her nefarious past is discovered, and after only a short time as chief executive, she is impeached and removed from office. Her Vice President is sworn in, and immediately begins programs that allow the government to take over America's banking system, health care, media, and much of its industry.
An unlikely group of patriots, consisting of a wheelchair-bound reporter, an aging D.C. cop, a retired FBI agent, and a brain damaged Vietnam hero, discover the President's association with the plot to socialize America. Our heroes race the clock to find a way to stop the President and his henchmen before they can unleash the full extent of their plan to Bring the United States of America into the Communist fold, as envisioned by Premier Khrushchev long ago.
Nikita's War is a fast paced story that will provide you with action, suspense, and political intrigue. For readers who have asked themselves, "How did our country get into this current mess, and what do those politicians in Washington think they are doing?" this story will provide one possible answer. It is important to remember one thing as you read:  Nikita's War is fiction…or is it?
Read Chapter 1 on the Nikita's War page of this website.
Click here to download Nikita's War.
An airplane crash begins a journey that includes a stroll through Noah's Ark, a cure for cancer by futuristic nanotechnology, and a peek through the veil into Heaven.
NOAH is an epoch story that relates personalities across five millennia, from the voyage of Noah and his family to our modern age of technological miracles. Businessman John Grey crashes his single engine aircraft into an Eastern European military compound, and is caught up in a journey that takes him to a monastery in the mountains of Ararat that was founded by Noah himself and continues to do God's work to this very day.
Teddy Moore is a nine-year-old patient at St. Jude Hospital in Memphis, Tennessee. His treatment for brain cancer is not working, and doctors do not expect him to live. John Grey travels to St. Jude and administers a healing solution from the monastery that restores Teddy to health. As a young man, Teddy becomes a member of the monastic order and is given the task of becoming educated in the field of nanotechnology, the science of building virtually anything at the molecular level. The mineral stones that provided Teddy's cancer cure as well as many other cures have been in constant use for 5000 years, and are wearing out. Teddy's studies in nanotechnology allow him to discover a method to restore the cures through modern technology.
John Grey has never been a churchgoer, he admits, but he remains active in helping Teddy and the monastic order for many years. After an absence of over fifteen years, he is invited back to the monastery, where he finds Teddy and other friends have departed from their earthly life and are now in Heaven. John is allowed to see and speak to them through a portal into Heaven that God had provided the monastery at the time of its founding. During the conversation, John finds his faith. Even though he is given the option of joining with God and his friends in Heaven, he makes the decision to remain in his mortal life, and spend the remainder of his years helping the monastic order to do God's work throughout the world.
Read Chapter 1 on the NOAH page of this website.
Click here to download NOAH.
Sometimes heroism is lost to history.
Jack and Charlie are two of the millions of farm boys who dropped their bales of hay and joined the Army or Navy in 1943 because it was the right thing to do. The lifelong friends serve together in basic training, but are separated to pursue additional military training that fit their individual talents. Meer weeks after their separation, Jack finds himself assigned to his dream job, gunner on a B-17 crew that makes regular bombing runs over Germany. Charlie is disappointed to be assigned to 'company clerk' school, but soon finds himself assigned to General Dwight Eisenhower's staff at Allied Headquarters in London.
A perfect confluence of events brings the two friends back together during a time of critical planning for the D-Day invasion of Europe. In the midst of a Nazi attack on the D-Day planners, the two young men carry out incredible acts of heroism that ultimately save the invasion plans, and, possibly, the entire war effort against Hitler and his Nazi regime.
Medals for valor are considered for the two men, but a decision is made at the highest levels that public knowledge of the pair's actions would be detrimental to the war effort. The two soldiers' meritorious service to their country and the world is forgotten…almost.
Read Chapter 1 on the Unspoken Valor page of this website.
Click here to download Unspoken Valor.